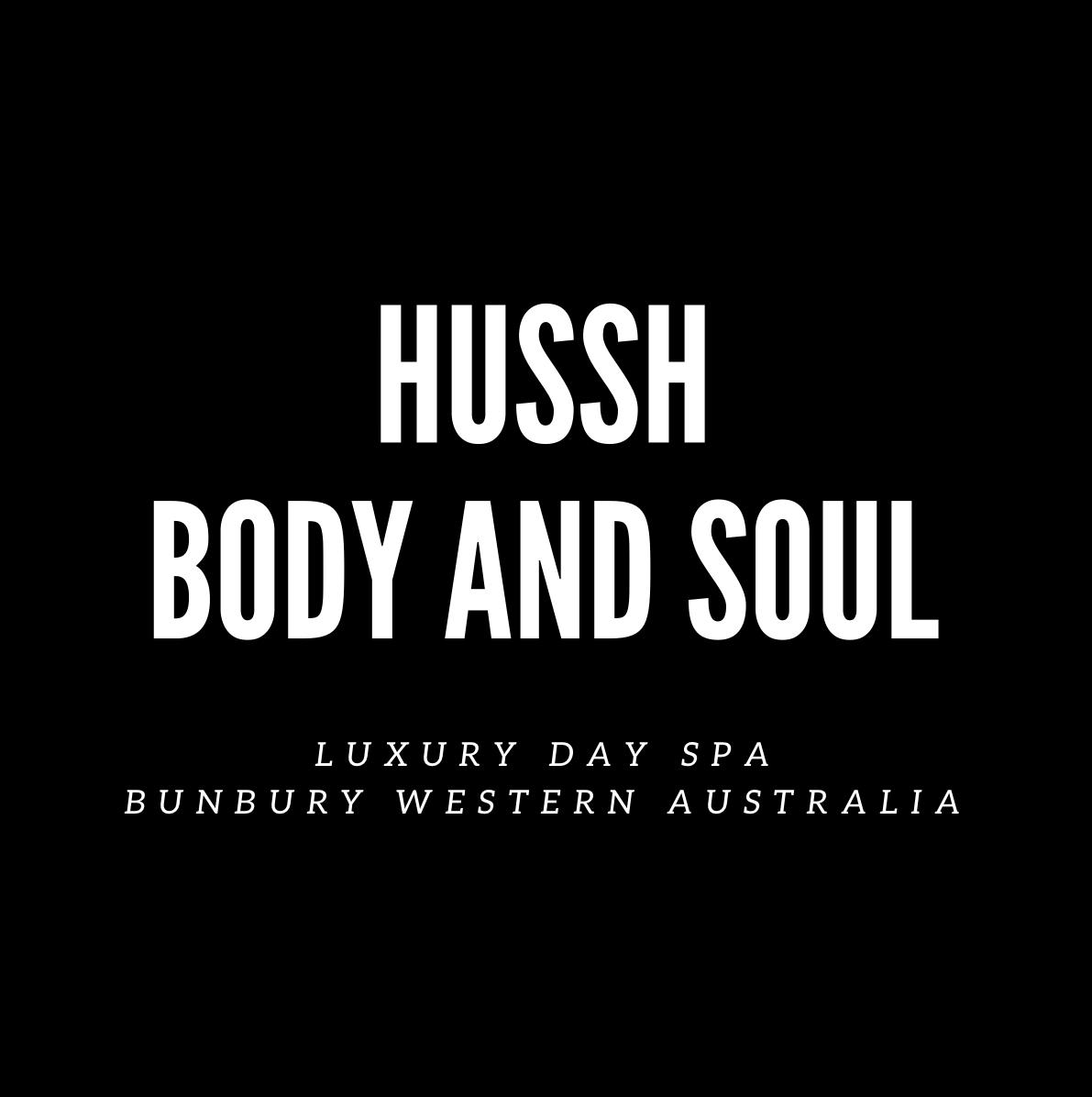 Hussh Body and Soul Day Spa
Welcome to Hussh Body and Soul

​
WHEN LIFE DEMANDS THE EXCEPTIONAL, HUSSH BODY AND SOUL DAY SPA BUNBURY DELIVERS
A LUXURY SPA EXPERIENCE FOR THOSE WHO APPRECIATE THE FINER THINGS
​
Hussh Body and Soul is a day spa dedicated to your relaxation and well-being. We offer the time and space to let you step out of your normal busy routine and slow down. Time for your mind and body to unwind, de-stress and find balance.

People have been using the healing powers of spa and water therapies for centuries and at Hussh Body and Soul, you will discover why. Our therapists are dedicated to delivering truly memorable treatments to our clients. Hussh is the home to Western Australia's first and only Double Vichy Room relax with your partner or friend and enjoy the benefits of our Vichy Shower Treatments; or submerge in one of our three Hydrotherapy Tubs.

Located on the Lobby Floor of the Silos Apartments Inside the Bunbury Hotel Koombana Bay (previously The Mantra Hotel) Hussh Body and Soul Luxury Day Spa is open to both hotel/apartment residents and non-residents. Hussh welcomes our clients by offering complementary time in the relaxation lounge for you to enjoy refreshments before and after your treatments.

Hussh Body and Soul is a highly sought after day spa, therefore it is recommended bookings are made in advance to avoid disappointment. If you are not sure what to choose, we will be more than happy to assist you in the selection of the right treatment for your needs.
Hussh Body and Soul Day Spa
Tayla Ratcliffe
Spa Coordinator
Hi I am the spa coordinator here at Hussh, youll see me mostly on reception and dealing with the day to day running of Hussh. My passion is making clients feel amazing about themselves and ensuring they have a great experience. In my ten years as a Beauty/Spa therapist i have studied and perfected an array of quailifications from PMU tattooing to muscle manipulation using massage. I have very limited spacing for new clients so please call the spa for more details.
Jasmin Riches
Spa Therapist
Hi my name is Jasmin, i am a Mum of three beautiful kids. Since my children have started school and are "leaving the nest" i have decided to go back and complete my cert IV in beauty therapy via a traineeship. I am qualified in Waxing, Tinting, Massages, Facials, Body Scrubs, Body Masks working away at treatment facials and trigger point massage. I have a passion for making my clients feel comfortable with my approachable personality and down to earth mannerisms. I cant wait to meet you
Delta Gaden
Junior Spa Therapist
Hi my name is Delta, I am currently studying my diploma in Beauty Therapy at Bunbury TAFE and working part time at Hussh. I will be running some specials as i become more confident in my treatments so please like our facebook page for more details :)
Nina Bertenshaw
Spa therapist
Nina is a bright and bubbly ball of wisdom and talent Nina has vast experience in both Spa and Beauty Therapy and brings a natural approach to Hussh. Nina is super passionate about skin health and beauty and dam this girl got skills!
Alyssa Murtha
Treatment Facialist and IPL Specialist
Alyssa is the sweetest slice of heaven you ever did meet. Alyssa is Beauty Therapy trained with a passion for relaxation and making her clients feel amazing.
Carly Greenmount
Senior Spa Therapist
Hello old and new clients, our die hard Husshies will remember me but for everyone that is new my name is Carly; I have been in the beauty/spa industry for 15+years crazy i know good skincare really does work! I specialise in everything spa and beauty therapy, i have a passion for skin correction and sugaring hair removal. I am back for the busy holiday season so please call the spa to book as i am already super busy and i would hate for you to miss out. I cannot wait to meet you, Carly xx
Kirra Lancaster
Trainee Spa Therapist
The bright and bubbly client turned therapist, Kirra has been a client of Hussh since the very start she loved our services so much that she has started her training as a beauty therapist! Kirra is competant and amazing at balance and calm massages, body treatments including scrubs and wraps, basic facialist and is working away at a various number of treatments. Come say hi to our newest member Kirra.
Taylor Krikke
Guest Massage Specialist/Therapist
Hi my names Taylor, i know confusing two Taylor/Tayla's in one spa. I specialise in massage (including extremely deep tissue massage) i have advanced diploma od massage therapy as well as my beauty diploma. I will be with Hussh on limited days so please if you woul like to see me contact us now via phone, email, online booking or Facebook. See you soon xx
Hussh Body and Soul Day Spa
Hussh Body and Soul Day Spa
Hussh Body and Soul Day Spa
Hussh Body and Soul Day Spa
1 Holman Street, Day Spa Inside The Bunbury Hotel Koombana Bay, Bunbury, Bunbury, WA, 6230
0897213877
Tuesday

Wednesday

Thursday

Friday

Saturday

9:00am - 8:00pm

9:00am - 5:00pm

9:00am - 8:00pm

9:00am - 8:00pm

9:00am - 5:00pm